Go Waze
Build your first Android App in 3 days - Masterclass @ TNDS
Make your mobile app come to life. Bring your UI/UX prototype, revise it with us and learn how to implement it (*).
The masterclass goal is to enable the participants to build their own Android Apps. After this training, the participants should be able to develop their own simple Android Apps, as well as join existing Android teams to implement UI/UX changes. No knowledge of Java programming is required, although some programming experience will help.
Only 10 seats available.

---
Who is this for
Designers who want to learn to implement their mobile app designs
Designers working on existing Android products
Anyone wanting to kick start their mobile app development skills
Anyone curious about mobile app development
Expected takeaways

Have a simple Android app published on the Google Play Store
Have the first simple version of your mobile app idea available for download
Learn the process between design and development of an Android app
Be more confident about the feasibility of your solutions when designing a mobile app
Be able to implement UI/UX changes on existing Android apps
---
Alternative formats
This masterclass has 2 main types of tickets:
3-days tickets
These tickets will give you access to the first 3 days of the masterclass, from August 21st (Monday) to August 23rd (Wednesday). If you're really busy at work and/or your employer won't allow you to spare a full week for training, this is the perfect ticket for you.
5-days tickets
These tickets will give you access to the 5 days of the masterclass, from August 21st (Monday) to August 25th (Friday). The 2 last days will include personalized mentoring from our speakers to help you further develop the masterclass project or any other project you might be working on, a one-to-one feedback session, pro tips and tricks and extra time at The New Digital School!
There are Early Bird prices available, for both ticket types. Only until August 14tt! Don't miss out!
---
Schedule 
1st day

Material Design concepts
Presentation and group review of mobile app prototypes by participants
Quick introduction to Java programming
Introduction to the Android framework
Android Studio
Activities
Layouts & Resources
2nd day

Layout exercises
Implementing Material Design
Saving data (Preferences)
Integrating with our platforms (API integration)
Listing content (RecyclerView)
3rd day

Sharing content with other apps
Additional features (depending on the students? projects)
Getting the user location
Displaying maps information
Camera photos
Push notifications
Database
Analytics
Publishing on the Google Play Store
4th & 5th days (only accessible to the 5-days ticket holders)

Mentoring
Troubleshooting
---
Pre-work suggested (*)
Ideally, you should come to the masterclass already with an app concept to implement, together with its UI/UX designs. Concepts should be simple, 1?2 main use cases, that translate into 3?4 screens. Examples:

Show top 10 Reddit stories of the day
Check-in on concerts
Get a Spotify playlist recommendation
Note saving app
You?ll be asked to send us a text with your app concept, together with a short description of each app screen, until August 16. (*) We?ll check with you if it fits the masterclass scope. And it will also help us adjust the masterclass contents to everyone?s goals.
(*) Note: Don?t worry if you don?t have an application concept/design to build during the masterclass! We?ll have an extra app concept ready for you to work on.
---
The speakers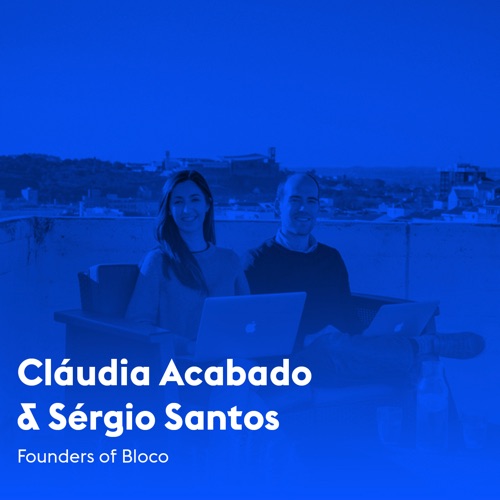 Cláudia Acabado and Sérgio Santos are the founders of Bloco, a product development studio focused on Android apps. From working with startups and building our own products, we learned the hard way how a product development process should be like. We like solving problems creatively, but we enjoy more finishing with a product people need and are able to use. If they have a remarkable experience with it, that?s the cherry on top.
Cláudia was previously visual designer at Nourish Care. Sérgio Santos was previously head of software development at Nourish Care and founder and developer at Bundlr.
Know more about Bloco at https://www.bloco.io


Don't miss out on this opportunity to join Cláudia, Sérgio and The New Digital School for this week of intensive work and lots of fun!


Disclaimer:

The New Digital School reserves the right to make changes to the schedule, if necessary. We don?t believe in formatted education. The masterclass schedule is supposed to be taken as a guideline and it might change during the week, depending on the students' interests, needs and pace.
Meals are not included in the masterclass price.
Culturelux.lu