CAET Webinars: Arts Education & Therapy -History, Applications & Frontiers

---
---
---
Following the success of our webinar series Laban ? History, Applications and Frontiers?, which was launched in 2017 and which has attracted a worldwide audience, we will present a second series titled "Creative Arts Education and Therapy ? History, Applications and Frontiers?". We invite some of the most influential and promising educators and therapists to deliver online presentations. This year-long program aims at bringing professionals in the field of arts education and therapy together throughout the world, to stimulate a critical dialogue, and facilitate networking to strengthen our profession, in line with the mission of the Inspirees? and CAET?.
The whole series has 7 modules in education and therapy, related to different art forms of music, drama, dance, expressive art, poetry, and play. Each module consists of 4-8 seminars. Every seminar is of one hour duration, including 40-45 minutes of lecture plus a 15-20 minutes long Q&A session. All sessions are recorded (live), so as to be available for future instruction and learning. Towards this end, we have recruited a team to support the technical and logistic aspects of the sessions.
In the meantime, our Laban series? will run till Dec 2018. The CAET series?, consisting of 30 plus webinars, will be launched in December of this year and will run through 2020. From these webinar presenters, we will eventually select the speakers for the CAET World Forum, held live in Europe and China. In addition, the revenues from this webinar series will be used to sponsor open access publishing of our CAET journal ?and the academic conferences in China and Europe?
Click here to see the full program of CAET Webinar Series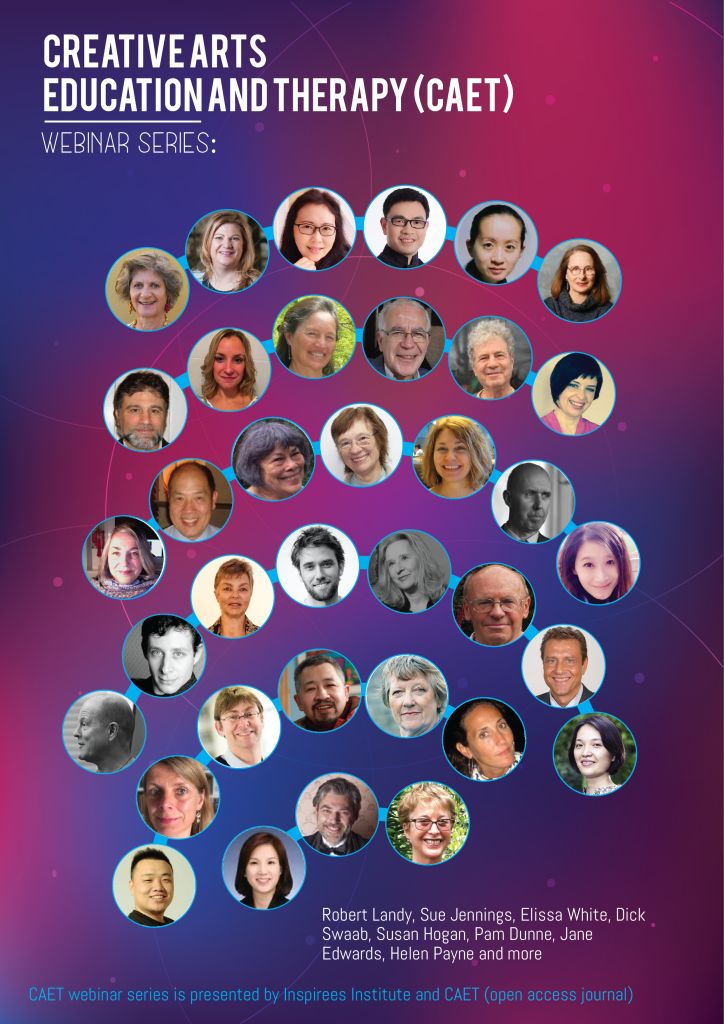 ---
Seminar 2: The history of dance therapy in US
2019/1/9 Elissa Queyquep White
Dance Therapy, now known as dance/movement therapy (dmt), in the United States (U.S.) began in the early 1940?s. One of the recognized pioneers, Marian Chace, was asked to conduct dance classes at St. Elizabeth?s Hospital in Washington, D.C. Men who served in the armed forces during World War II were returning in great numbers with ?shell shock? (now trauma) and needed to be treated in all kinds of group modalities. In other parts of the country, modern dancers whose foci were on psychosocial themes in their dances were acquainting themselves with the increasing popularity of various psychology theories. It took some years for these pioneers to educate others in their methods and it was not until the formation of the American Dance Therapy Association (ADTA). In 1966 that dmt became recognized as a discrete profession. In l971, the first graduate program to offer a comprehensive, sequentially organized curriculum was offered in New York City. It is important to understand that various dmt methods were developed in relation to the populations with which the pioneers worked even though all used the basic elements of dance.
Elissa Queyquep White studied with Marian Chace and Irmgard Bartenieff. She co-founded the Dance Therapy Program at Hunter College in 1971 and along with teaching, worked clinically from l967-1998. She is a charter member of ADTA and served in many capacities on the Board of Directors, the last being president of ADTA. She teaches courses at The New School, Pratt Institute and Kinections., is on the advisory board of Inspirees Institute for Creative Arts Therapy (IICAT) in Beijing. She has published articles on dmt and movement observation.
Seminar 3: Music therapy in global perspectives
2019/1/30  Annie Heiderscheit
Music has been an integral component of health and healing practices in cultures all around the world for centuries. These historical accounts are the precursors to the development of music therapy as a profession in regions throughout the world. This webinar explores the development of music therapy in countries around the world and provides an update of music therapy trends from a global perspective. This includes information related to music therapy training, clinical practice, global demographics of music therapists, advocacy efforts, and information regarding development of sustainability of the profession. Important issues and concerns impacting music therapists around the world will be discussed including employment, funding, public awareness, licensure, networking and mentoring, and access to academic training. Resources available to music therapists around the world will be shared, as well as ways to engage with international colleagues. Case illustrations will be shared relating to how international organizations, academic training programs and colleagues are working to support the development of music therapy globally. The growth of music therapy as a profession is impacted by how it is developing globally and not simply nationally. Discover how developing a global perspective of music therapy can help to advance the profession in your own respective part of the world.
Dr. Annie Heiderscheit is Associate Professor of Music and Director of Music Therapy overseeing both the undergraduate and graduate music therapy programs at Augsburg University. She has over 20 years of experience teaching undergraduate and graduate courses and almost 30 years of experience in a variety of healthcare and clinical settings. She also maintains a music therapy private practice and consults with major healthcare organizations. She is the Chair of the Publications Commission for the World Federation of Music Therapy (WFMT) and editor of Music Therapy Today. She is the Chair of Communications for the International Association of Music and Medicine (IAMM).She frequently lectures and presents internationally, nationally and regionally and has published extensively on her clinical work and research in over 20 chapters books and numerous peer reviewed journals. She has authored chapters on music therapy in eating disorder treatment, addictions, depression, spirituality, guided imagery and music, and surgical and procedural support. She edited a book entitled, The Creative Arts Therapies in Eating Disorder Treatment and recently co-authored a book entitled, Introduction to Music Therapy Practice, which will be available through Barcelona Publishers fall 2018. Dr. Heiderscheit also serves on the editorial boards of various peer-reviewed journals including Music Therapy Perspectives, Creative Arts & Expressive Therapies, Music and Medicine and regularly reviews articles for various peer-reviewed journals. Associate Editor of Creative Arts in Education and Therapy ?CAET?
Seminar 4: Out of our Mind: Art Therapy and mindfulness, resilience, adversity and refugees
2019/2/20  Debra Kalmanowitz
This webinar presentation will look at the combination of art therapy and mindfulness meditation in work with refugees. The integration of the two (art therapy and mindfulness) will be explored in relation to the challenges of the refugee experience, political violence, resilience, trauma, suffering and wellbeing. Consideration will be given to how these approaches can be combined to help individuals build strategies for safety, support resilience, and work with multiple levels of loss, after extreme and traumatic experiences. Case examples from work and research with refugees in an art therapy and mindfulness studio (named Inhabited studio) in Hong Kong will be drawn upon and the significance of different aspects of the combination of the two in this context will be discussed.
Debra Kalmanowitz, PhD, HCPC, BAAT reg. artist and art therapist has worked extensively in the context of trauma, political violence, and social change. Debra has worked with refugees, asylum seekers, survivors of torture and disasters for over 20 years. She is a psychosocial professional advisor for IsraAid and Clinical Lead for Refugee Trauma Initiative- RTI as well as teaching at the Academic College of Society and the Arts (ASA) (Israel). She is the co-author of The Portable Studio, Art Therapy and Political Violence: With art, without illusion and Art Therapy in Asia: To the Bone or Wrapped in Silk. Associate Editor of Creative Arts in Education and Therapy ?CAET?
Seminar 5: Evidence-based research in dance therapy
2019/3/13   Iris Bräuninger
This webinar invites participants to dwell into the exciting world of research. In the first part, we will explore questions such as ?What is research??, ?How do I progress from an idea to a research question??, ?What makes a question a research question?? We will discover dance therapy research examples thereby applying the lenses of evidence-based Medicine and their Levels of Evidence: systematic reviews, randomized controlled trials, outcome studies without randomization (control studies, intervention studies without controls), qualitative studies, expert opinions. We will learn about examples of dance movement therapy research for each of these study types. We will briefly touch on other research methods used in dance therapy such as artistic inquiries. But above all, we will learn about the most recent dance therapy studies that have been conducted in various fields such as health science (including mental health, somatic medicine, oncology), education, special needs, well-being, and others. In the second part of the webinar we will explore what is meant with qualitative research methods, quantitative research methods and mixed methods designs with regard to dance therapy research. Finally, the possibilities and limitations of these options and of online research in the field of dance therapy will be highlighted.
Dr Iris Bräuninger is a researcher, co-leader of the BA Program Psychomotor Therapy (University of Applied Sciences of Special Needs Education, Zurich/Switzerland). PhD from University of Tuebingen (Germany), M.A. in DMT from Laban Centre/City University of London. She teaches internationally and at the DMT Master Program Autonomous University (Barcelona/Spain). Iris was a former researcher and deputy head of DMT department at University Hospital of Psychiatry Zurich, a post-doctoral researcher at Stress Resilience Research Team (University of Deusto, Bilbao/Spain). Iris is a DMT supervisor, KMP notator, and holds the European Certificate for Psychotherapy (ECP). Numerous publications on DMT research.
Semianr 6: Art and Brain - A neuroscientist?s perspective
2019/4/3  Dick Swaab
We are human because of our typically human brains that make culture and self-reflection possible. Our immense creativity manifests itself in an unending flow of new technological and scientific developments, and in art and music. Our large, creative brains with their extra cells and connections enable us to adapt faster than other species to a changing environment. The history of the visual arts goes back some 30,000 years when the human brain weighed about 1500 grams. In order to experience the feelings and emotions that art can arouse we use the same brain systems as we do to function in our daily lives. Artists make unconscious use of neurobiological principles. Art can be used in the treatment of mental illness, while mental illness can exercise a profound effect on the work of the artist. Music can influence the structure and function of the brain and thus the way we function at all stages of life. It exerts its influence on many areas of the brain and on chemical messengers, and consequently on our emotions. As a result, it can alleviate pain and have a therapeutic effect in the treatment of brain disorders. Dance too can have a beneficial effect, for example in the case of Parkinson?s disease.
Dick Swaab was Director of the Netherlands Institute for Brain Research from 1978 to 2005. Since 1979 he is Professor of Neurobiology at the Medical Faculty, University of Amsterdam. In 1985 he founded the Netherlands Brain Bank and was Director until 2005. He is since 1978 Leader Research Team Neuropsychiatric Disorders, Neth. Inst for Neuroscience, an institute of the Royal Netherlands Academy of Arts and Sciences (KNAW) and is Qiu Shi Professor of Zhejiang University, Hangzhou, P.R. China. He has published over 600 papers in SCI journals, authored more than 200 chapters in books, and edited more than 80 books Swaab is author of the 2 volume monograph The Human Hypothalamus that appeared in the Handbook of Clinical Neurology series, Elsevier. He has also published for the general public the best seller We are our Brains, that is translated in 17 languages. There is also a children?s version of the book (You are your brain). In 2016 Swaab published a second book for the general public Our Creative Brain.
Seminar 7: Dance for the health ? A EU social-economic module for health management
2019/4/24 Andrew Greenwood 
?Moving Towards Mental Wellbeing? 
Sedentary lifestyles have deleterious consequences for mental health, increasing depression and anxiety, and in the longer term increase the risk for serious NCDs. The mental health of young people is a growing concern and especially young women in highly competitive study and work environments are suffering from high levels of psychological distress(Pl).
Dance has an essential role to play in positive health. Backed by evidence-based research, Andrew Greenwood promotes adapted dance interventions and the training of dancers to deliver effective, creative approaches that enhance health and mental wellbeing. Such interventions are primed to provide a much needed ?buffer? for our healthcare systems as they support positive health, preventing against deterioration to more serious mental health complications and the need for specialist treatment. 
The aim for this seminar is to offer more public participation and create unity in community. To encourage more Physical, Mental and Social interventions within the realms of the creative arts.
Andrew Greenwood  After an international career as a professional classical ballet dancer and renowned International Ballet Master. He turned his attention to dance and creative wellness. Setting up as founder and co-founder four national and international foundations which concentrate movement programs for different neurodegenerative pathologies and lobbying for more creative based health interventions using dance and dance artists. Simultaneously setting up education programs using the Switch2Move methodology developed by Andrew. Over the course of 5 years he has educated over 250 dance teachers and health facilitators in over 15 different countries. Setting up classes for different physical and mental challenged groups in Italy, Germany, Austria, Indonesia, England, Russia and Holland. Conducted medical research with the VU medical university Amsterdam on the effects of his movement program on individuals with multiple sclerosis. At present conducting a research with the Caterina hospital Eindhoven with individuals with early stages of Alzheimer?s disease. Pilot study on the feasibility of in-hospital dance and creative wellness to improve quality of life of community-dwelling people with dementia. Currently running a year pilot program in St Petersburg with the State University of St Petersburg: Faculty of Psychology & Special Pedagogy. Educating professional dancers in transition to lead classes for three specific groups of people with physical and mental challenges. Which will be research by the State University of St Petersburg.
For more information:
About the SPEAKERS
About the AGENDA
Ajoutez votre commentaire:
Culturelux.lu